Rue de la Paix - No. 20
Ladies Accessories Shop

T

he house is a modified Dollshouse kit from Doll's House Workshop - 'The Croft'. The interior has been altered so it suits the purpose of the house being a shop. The construction of the roof has been elevated to make space for gutters and roof plates. Outside décor has been changed to better quality materials (Mini Mundis). The Shop will be a Ladies Accessories Shop.
The interior decorating of the shop is far from finished - but below you can see some of the items of the shop. I have made all the items myself - also the counters. I had difficulty finding counters with the correct size - so I made them myself - with real glass panes.

Another fun project I have spend time doing are all the perfume bottles with matching display cases and labels.

French Soaps (made from small buttons...)

Pink Corset with matching slippers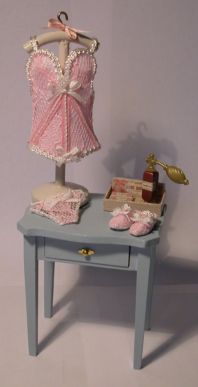 Another bag made from a silk ribbon

Selfmade counter with glass display containing perfume bottle display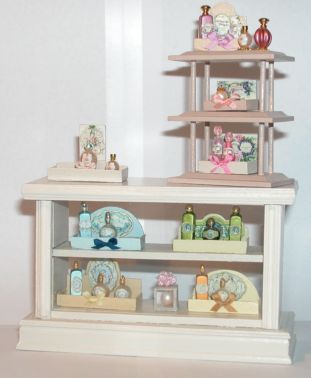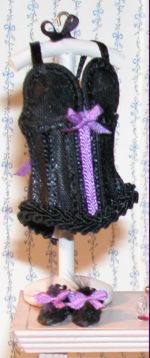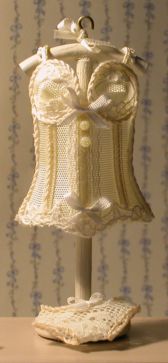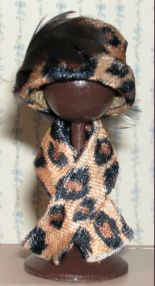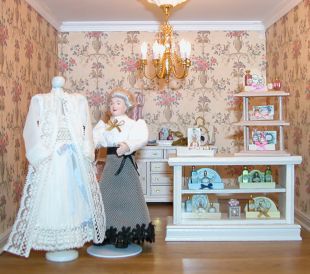 The owner of the shop arranging the display before the first customers arrive... I have made the clothes for the doll.
Black Corset with matching slippers
'Leopard' pattern hat and stoala for a cold winther day...